Kalispell MT to Bellingham WA to Seattle WA (Kay)
Day 9
was… a lot of driving. there's no direct way across the state because of the cascade mountains. So, you end up going south around them. In the morning Dachary spent maybe an hour trying to figure out where we should stop for the night. During the drive I spent another hour. For many reasons, there was no good answer. It sucked, but eventually (well after lunch) we decided on Bellingham, and went for it.
About the most notable thing from the drive was finding the actual end of a rainbow. It's in a protected meadow thing in Montana,
and encountering four trucks carrying massive wind-turbine blades
Four is notable because they only have 3 each, so what's the deal with the spare?
It was a long day.
Day 10
started out better. We made it out of the hotel relatively quickly (for us) and started the 1.5 hours east to North Cascades National Park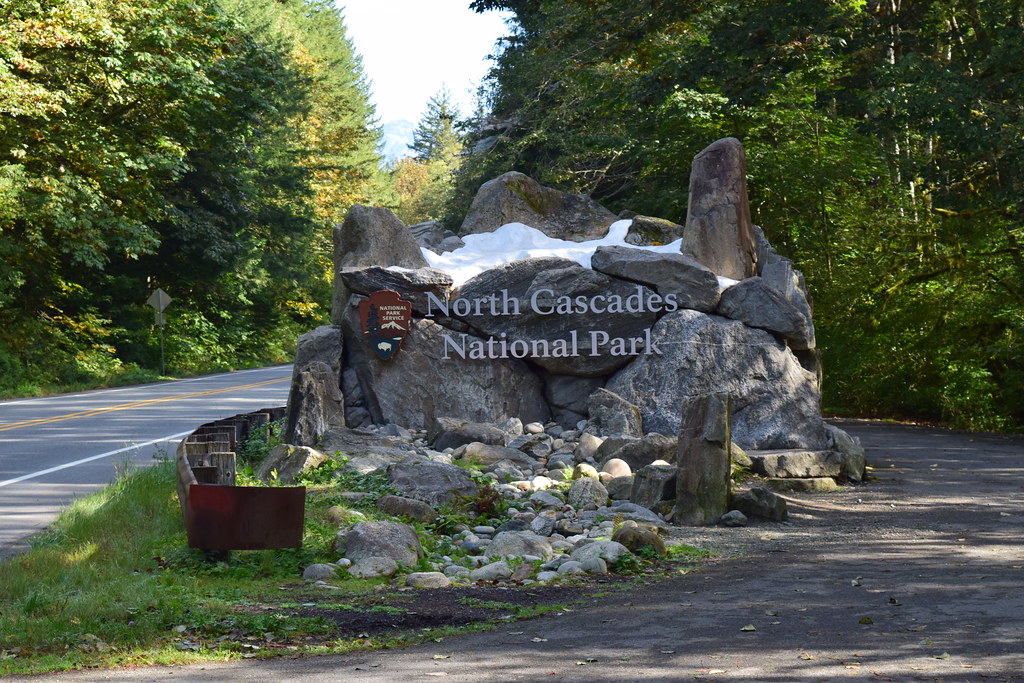 Along the way Dachary mentioned that her tooth was starting to hurt. We stopped at the visitor's center and walked a little trail to take the obligatory National Park Selfie. You can't make it out but there's a tiny glacier in the mountain behind us.
We saw dams
and waterfalls
sniffed trees
and encountered the most amazing hand-built truck camper and the man who made it.
It's got a solar panel on the top, and a bed inside atop cabinetry that contains a slide-out Dometic fridge, storage, and other useful things. Everyone who saw it, and him stopped to ask him if he made it. People were compelled to run their hands over the sides. It was gorgeous. I couldn't stop lusting after it. Cascades is a beautiful park
But mostly it just feels like driving between an endless series of tree covered hills. It was only towards the east end that we started to get some dramatic rocks showing up.
After Glacier and Teddy Roosevelt, it was a bit of a let down. It was also marred by two things. 1) the fucking power lines from the dams.
the fact that every hour the day progressed forwards brought increased mouth pain to Dachary. I suggested we look up some dentists in Seattle that might be able to take us in on Saturday. Dachary didn't say no. Internally I thought "Oh shit." and began hunting dentists as soon as we got out of the park and had cell signal again.
We discovered that Washington Apple Country is based in dry, dry, crappy land and the trees only survive as a result of heavy irrigation from the nearby (dammed) river. We don't understand why we didn't see apple trees on the western side of the mountain range where it's lush and green.
Appointment made. Hotel booked (Friday night, downtown Seattle prices… eesh). I took the wheel and drove back along the lower part of the loop of the national forest.
Downtown Seattle is a crap place to walk dogs. That's probably true of every city, but it's especially true of Seattle. There's a park about a block away from our hotel, but the entire thing is closed off for renovation, and judging from the graffiti, has been that way for quite some time. Cross your fingers for the morning's emergency dentistry.